Z-Theatre is back!
Open auditions for Z-Theatre's spring musical Return to the Forbidden Planet February 4 & 5, 2019 at 7:00 PM. Click here for more details.
Like Z-Theatre on Facebook to stay up to date on the latest events
For questions about Z-Theatre: ztheatre.zumbrota@gmail.com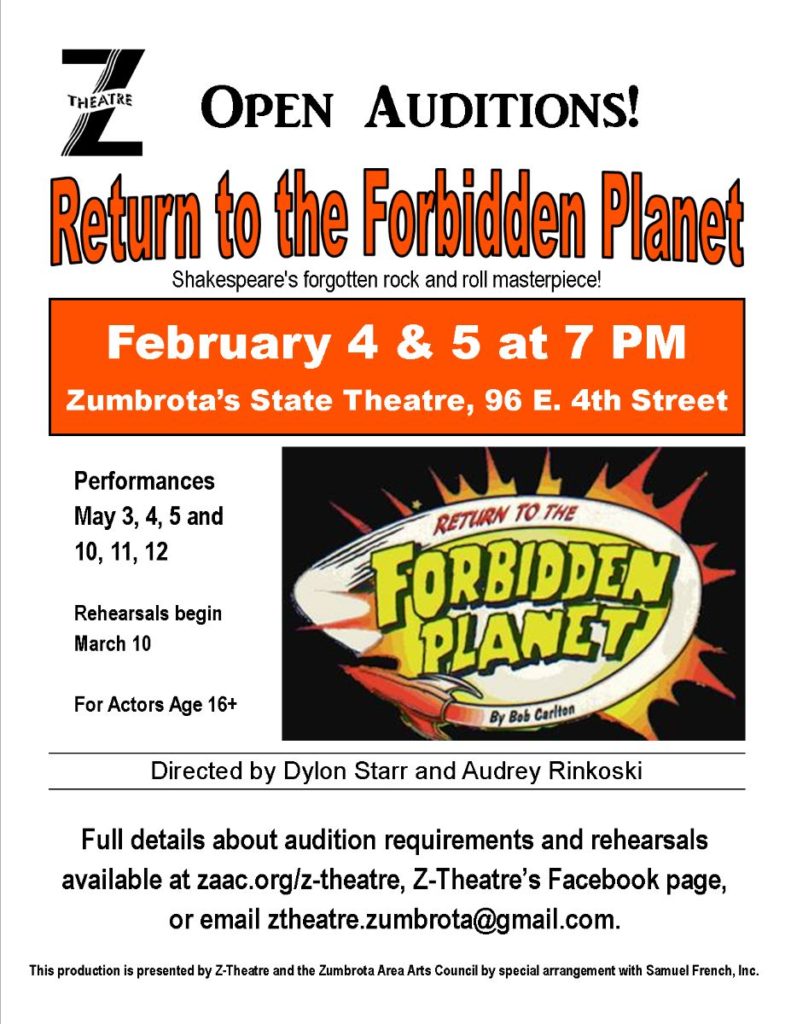 Congratulations to the talented cast of Return to the Forbidden Planet!

Tickets go on sale April 1

Performances are:
May 3, 7 PM – Opening Night Reception with 2019-2020 season announcement after the show
May 4, 7 PM – Dinner theater with Bridget's Cafe at 5:30 PM
May 5, 2 PM
May 10, 7 PM
May 11, 7 PM
May 12, 2 PM – Mother's Day Brunch at Bridget's Cafe 12:30 PM
Science Officer:  Cindy Bjorn
Nav. Officer:  Laura Haugen
Ariel:   Lucas Simonson
Cleaning Lady:   Lori Rauen
Bosun:   Hunter Stanke
Cookie:   Tyler Irvin
Prospero:   Brian Adams
Crew:   Emily Haugen
Miranda:   Maggie Hendrickson
Tempest:   Gary Harbo
Crew:   Grace Robertson
Email ztheatre.zumbrota@gmail.com with questions.