The Friends of the Theatre sponsor the ART ON MAIN project which also has banners of this art on Main Street during the summer. The art in various mediums is donated by the artists who are supporting the State Theatre and the project. The art is not matted or framed and is 12 X 24″. The 3-D art is in various sizes. Measurements can be provided by requesting this info via email: friends.of.the.theatre.zaac@gmail.com
Click on the link to purchase. You must be able to pick up the art in Zumbrota. To make arrangements call 952-890-8101. No art will be held since it is first come first served. Please print your ticket as proof of purchase. There is also an opportunity to make a monetary donation to the Friends of the Theatre group. The ART ON MAIN original art sale benefits the Zumbrota State Theatre restoration and renovation fund.
Part of this activity is made possible by the voters of Minnesota through a grant from the Southeastern Minnesota Arts Council thanks to a legislative appropriation from the arts and cultural heritage fund. That portion is the Main Street banners, so the banners will not be for sale.
A huge THANK YOU to all who support the State Theatre and the artists!
2020 Entries That Appeared on 20 Banners: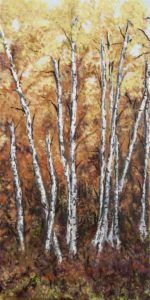 Judi Alme, "Birch Stand in Autumn"

Oil on canvas
"I've always loved the contrast of the white bark in a forest setting- and in the Fall it is even more striking."
SOLD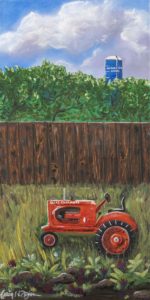 Craig Biorn, "Summer Farm"

Acrylic

"The American Farmer is very active in the community. One has to appreciate the hard work and beauty they offer."
  
  SOLD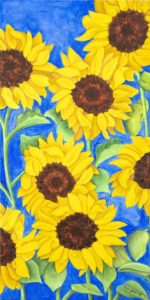 Roxann Bonde, "Sunflowers Say Summer"

Acrylic

Sunflowers say summer!
SOLD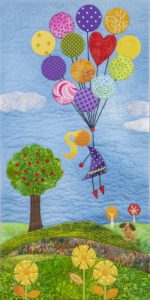 Sandra Borgschatz, "Follow Your Heart"

Fiber Arts

Life can take you on many journeys. When one journey ends, follow your heart to another one. I was inspired to create this quilt piece since I am taking on another challenge in the quilt world and hoping for an exciting ride!
SOLD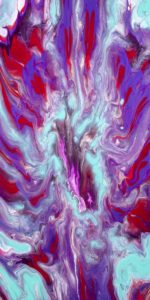 Mattie Engen, "Flower in the Rain"

Acrylic

I like planting flowers and watching when they get rained on.
Purchase Link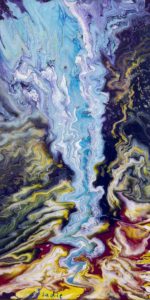 Sadie Engen, "Water Tornado"

Acrylic

I have always wanted to see a water tornado but I painted one instead.
Purchase Link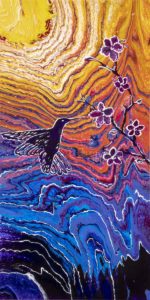 April Forss, "Hummingbird in Sunrise"

Acrylic

In the summer I love watching Hummingbirds on the flowers in the yard.
Purchase Link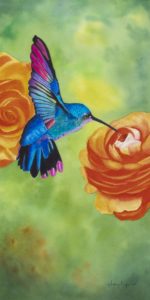 Cheryl Golla, "Humming for Nectar"

Watercolor
Many of my inspirations come from nature. I enjoy painting birds and flowers, so this colorful hummingbird was the perfect subject.
Purchase Link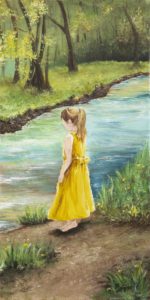 Molly Johnson, "Macy Mae"

Acrylic

Saw this picture of my friends beautiful little girl. It sums up her personality perfectly: bright, sunny, feminine and loves nature!
SOLD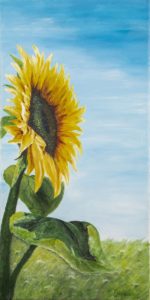 Molly Johnson, "You Are My Sunshine"

Acrylic

Sunflowers are amazing in their simplicity. They always bring a smile and warm memories whenever you see them!
SOLD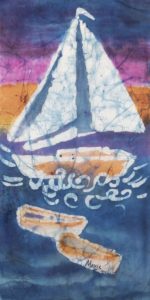 Mavis Kjarland, "Summer Boating"

Batik

As we enjoy our summer, we also enjoy summer boating on our beautiful rivers and lakes.
SOLD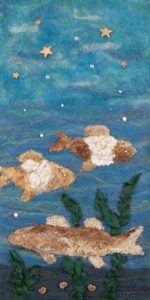 Marit Lomen, "Starry Night and Fish"

Wool needlefelting with bead embroidery

Wool needlefelting is combined with Ingeo fibers made from corn for the fish, glass beads and metal charms for the stars, ceramic shell beads, glass pearls for bubbles and Angelina fibers for sparkle in water and sky. The seaweed is made from craft felt that has been treated with a heat gun to make it curl.
Purchase Link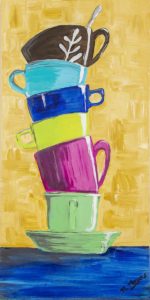 Melissa Meyers, "Stacked"

Acrylic

Six cups of coffee stacked up after a group of friends have been visiting. Coffee and conversation fosters community and connection.
SOLD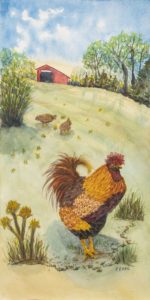 Patricia O'Neil, "Town and Country"

Watercolor

Being raised in SE Minnesota, I love small towns and family farms. I thought I would join the two together in a watercolor painting of the iconic Covered Bridge and some chickens.
Purchase Link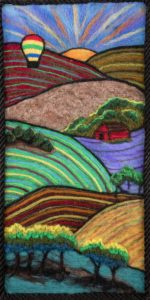 Connie Simonson, "Farmland"

Fabric arts

This piece was inspired by the farmland around Zumbrota. I enjoy the process of painting with wool and felting. I used a combination of wetfelting and needlefelting.
Purchase Link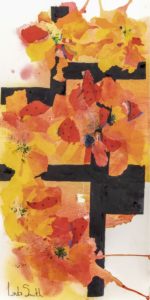 Linda Smith, "Poppies"

Watercolor and collage

Poppies are so cheerful! Mixing watercolor with collage has been an adventure for me!
Purchase Link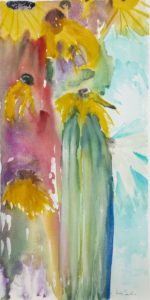 Linda Smith, "Posies"

Watercolor

Fresh cut flowers always lift the spirits!
Purchase Link

Layton Smith, "Rainbow Giraffe"

Gouache and Collage

All the different colors and pictures in the collage made this a fun project.
Purchase Link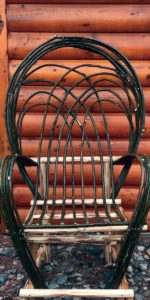 Jeff Smith, "Willow Chair"

Woodworking

A classic piece of Americana.
Purchase Link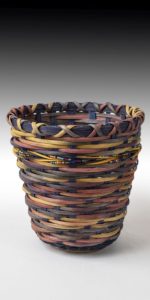 Jeanie Wilcox, "Summer's Pastel Rainbow"

Basketry

Basketry is a 3D art medium that provides endless opportunities to explore to make either useful or whimsical creations. My first basket was made in 1987. I continue to explore the options available to me and enjoy sharing both the process and the final products with others.
Purchase Link