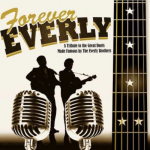 The Everly Brothers combined their two voices for a distinctive harmony that was wrapped around some of the finest songs of the early rock era. Now audiences can relive that sound with Forever Everly: A Tribute to the Great Duets Made Famous by The Everly Brothers. Crossings brings the performance to the State Theatre.
A major influence on the Beatles and virtually every vocal act that followed, the Everlys were also able to cross genres and had both pop and country hits.
This joyous performance features a full band and six wonderful vocalists – including Mary Jane Alm, Matt Velline, Boyd and Aimee Lee, and brothers Paul and Tim Frantzich – all taking turns pairing up to interpret the rich and varied musical catalog of the legendary duo. All told, there are 11 performers on stage for this concert.