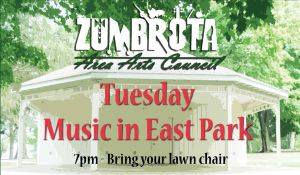 FREE Weekly summer concerts: 
Tuesdays 7:00 to 8:30 pm in Zumbrota's East Park,
on East Avenue — 1 block east of Main Street.
All you need to bring is your lawn chair. We'll take care of the FREE MUSIC and FREE ICE CREAM!
Tuesday Music in The Park Concerts made possible, in part, by a legacy grant from the Southeast Minnesota Arts Council
Please thank the sponsoring businesses for making all this possible. We appreciate their support!
In the case of inclement weather, concerts will be held at the State Theatre, 96 East 4th Street, Zumbrota.
Summer 2021 
June 15 – Lost Faculties oldies & etc.
June 22 — Patchouli Original classical guitar and vocals
June 29 – The Vintage Tones of Spielzeiten Und Pausen  varioius oldies
July 13 – CBB Jazz Combo Jazz
July 20 – Root River Jam various
July 27 – Rochester Big Band big band music
August 3 — Uptown Jazz 10-piece group
August 10 – Zumbrota Community Band various