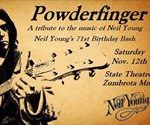 Minnesota's premier Neil Young tribute band celebrates his 71st birthday with a tribute to the folk and rock performer's music.
Powderfinger has been performing their tribute show for more than a decade. Consisting of Mark "Hazzy" Hasbrouck (guitar,vocals) D.B. Curtis (guitar,vocals) Jim Bjorklun (bass,vocals) and Brian Heying (drums), they play all the hits and deeper album cuts that are the favorites of every Young fan. Seemingly effortlessly, they create the Neil Young and Crazy Horse sound everyone loves.
Audiences can expect some long jams and passion fueled guitar playing on classics like "Down by the River," "Cowgirl in the Sand," and "Rockin' in the Free World." Powderfinger also plays not-to-be-missed hits like "Heart of Gold," "Old Man," and "Harvest Moon." Listeners are treated to a truly great experience for any fan of Young's music.
Canadian-born Neil Young first performed with a band in Canada, then moved to California. There, he co-founded the band Buffalo Springfield. In 1969 he joined Crosby, Stills & Nash, though he's also enjoyed a soaring and long-lasting solo career. Known for his guitar work and his voice, he has twice been inducted into the Hall of Fame.
For more information and tickets:  Crossings website