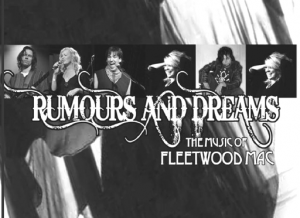 Crossings brings Pamela McNeill's "Rumours & Dreams: The Music of Fleetwood Mac" to Zumbrota's State Theatre on Saturday, June 13, at 8 PM. Tickets are $28 in advance, $30 at the door, and can be purchased online or by calling 507-732-7616. Doors open at 7 PM.
Singer/songwriter Pamela McNeill has assembled an all-star band to bring the music of Fleetwood Mac to life. Joining her will be Minnesota Music Hall of Famer Mary Jane Alm along with Jeff Engholm, heard by State Theatre audiences at Collective Unconscious concerts. Also in the band are Tom Bard, Jay Graf, and Dugan McNeill.
Concert-goers will revel in the group's hits, including, "The Chain," "Landslide," "Rhiannon," and "Don't Stop (Thinking about Tomorrow)." Some deeper cuts will gratify the most dedicated fans of this British-American rock band. McNeill's distinctive "voice of a fiery angel" lends itself to the music, while the impeccable musicianship of the band and Engholm's vocals top it off like whipped cream on a sundae.
Fleetwood Mac formed in 1967 in London. Their second album after the incorporation of Stevie Nicks and Lindsey Buckingham, 1977's "Rumours," produced four U.S. Top 10 singles (including Nicks' song "Dreams," which was the band's first and only U.S. number one). The album remained at No.1 on the American albums chart for 31 weeks. To date the album has sold more than 45 million copies worldwide, making it the sixth-highest-selling album of all time.
The State Theatre is located at 96 East 4th Street in Zumbrota. For more information call 507-732-5210.