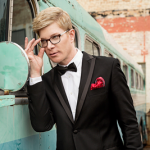 The Shaun Johnson Big Band Experience is the only group taking big band music, fusing it with modern day mixes of all genres, and making the act of giving "cool."
The performance was created for intelligent music lovers worldwide who wish to be a part of an electric musical experience accomplishing the unexpected: reaching out in an era of people typically looking out for "number one."
The Big Band Experience creates more than music. They create feelings. Experiences. The kind people remember as, "that unbelievable night out." Wanna levitate off your chair with the pulse of pop? Done. Just don't ask that they hold back the edge because that is what makes the Big Band Experience who they are. Big band was born out of rebellion, and the BBE owes it to Sinatra to keep that evolution alive. Suits. Edge. Energy. Contemporary songs with big band punch.
Shaun Johnson is an Emmy-winning singer/songwriter who seemed destined for a life of music from the very beginning. Originally from the small town of Saint Joseph, Iowa, Johnson attended Saint John's University before settling in Saint Cloud, where he began his career with the nationally known vocal group, Tonic Sol-fa. This quartet has sold nearly two million albums independently and has been featured in Newsweek and on the Today Show. Johnson is still an active member.
Wanting to bring an innovative big band experience to the audience, Johnson put together a group featuring some of the best instrumentalists and arrangers in the Midwest – guys who've toured with such luminaries as Aretha Franklin and Johnny Mathis, who are Music Educators of the Year and who are integral members of collegiate jazz faculties. His vision was to create a contemporary big band sound with a pop flair, honoring legends like Frank Sinatra, with a nod to Michael Bublé, while giving the music his own twist – performing songs ranging from the "Spiderman Theme" to originals from U.S. songwriters.