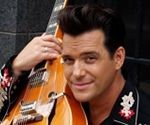 Crossings brings Robby Vee & his Rock-n-Roll Caravan, featuring Strings & Things violin section, to the State Theatre for a concert full of love songs and rock-n-roll. "Vee for Valentine," is Sat., Feb. 13, at 7:30 p.m.
A limited number of patrons may choose a catered dinner option, served at Crossings before the concert, from Pine Island's esteemed Rainbow Café.
$29.90 plus tax and tip (tax and tip, $6.50)
Catered by Rainbow Café of Pine Island, a restaurant focused on locally-sourced foods and owned and operated by 2 chefs formerly working at several highly esteemed Rochester restaurants.
Those who buy dinners can also choose where they want to sit at the concert, and their seats will be reserved for them.
Arrive at 5:45 for dinner served at 6 p.m. in the Crossings gallery. Menu:
Garden Vegetable Lasagna
Fresh Baguettes with Herb Butter
Salad Greens
Caprese Skewers
Spinach Fritters
Butternut Squash Soup Shooter
Dessert with Muggsy's Coffee
Wine and beer will be available for purchase.
Second generation rocker & Canadian Rockabilly Hall of Famer Vee has been called "The Prince Of Twang." The son of Bobby Vee, he has been performing his unique style of rock-n-roll music for years on stages across the globe.
Having been on tour with the legends and architects of rock-n-roll, Vee has learned from, and shared credits and stages with, James Burton, Carl Perkins, Albert Lee, Little Richard, the Everly Brothers, Sir Paul McCartney, Eric Clapton, Dion, The Righteous Brothers, Buddy Holly's Crickets, and Dick Clark and his 'Caravan of Stars Rock 'N' Roll Show.'
Vee is known for combining elements of his vast repertoire and telling stories that bridge the generation gap from the roots of rock-n-roll to the new sounds of Americana music of today. As an entertainer with six studio records to his name, countless guest artist credits, and a history of extensive touring, Vee has captured the attention of audiences and respected industry professionals both nationally and internationally.
Claude Hall, radio-TV editor of Billboard Magazine writes, "If this guy had been around during the era of Elvis, he would have given Elvis a run for his money."
Vee is currently touring to audiences worldwide with his "Rock-n-Roll Caravan Show," featuring the Strings & Things violin section. The Caravan Show pays tribute to the golden era of rock n' roll with a tip of the hat to his father Bobby Vee and music legend Buddy Holly.
For an extra-special Valentine's date, patrons attending the concert may also enjoy dinner at the Crossings gallery. This dinner, from Rainbow Café, includes garden vegetable lasagna, fresh baguettes with herb butter, salad greens, caprese skewers, spinach fritters, butternut squash soup shooter, and dessert with Muggsy's coffee. Dinner is $29.90 plus tax and tip, and wine and beer will be available for purchase. Dinner is served at 6 p.m., and diners may choose their seats for the concert, which will be reserved for them.
Rainbow Café is owned and operated by two chefs who have worked in the kitchens of Sontes, City Café and Prescott's in Rochester. They focus on locally-sourced foods when creating their delicious meals.
Crossings link for tickets:
http://www.crossingsatcarnegie.com/concertpages/robbyvee_valentine.html