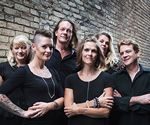 SimpleGifts with Billy McLaughlin combines violin, celtic whistle, piano, acoustic guitar and percussion with angelic three-part female vocals to deliver a "modern Old World" sound in Christmas carols and hymns.
SimpleGifts, an ensemble led by award-winning musician McLaughlin, stays close to the heart of Christmas. With exceptional set and lighting design and an impeccable sound-system, SimpleGifts puts community celebration ahead of commercialization – pulling the audience into the sublime side of traditional repertoire in a truly meaningful Christmas event.
Crossings is thrilled to bring the popular SimpleGifts show back to Zumbrota for the ninth year running.
With little or no media attention, SimpleGifts is arguably the most successful holiday-themed project in the state celebrating exclusively traditional hymns and carols interpreted in modern arrangements. Fueled by passionate grassroots fans since 2001, the tour includes more than a dozen appearances between Thanksgiving and Christmas Eve in the Twin Cities metro or within close proximity.
Music from the group's five critically acclaimed CD releases will be featured. Familiar classics audiences may hear include "O Little Town of Bethlehem," "Hark the Herald Angels Sing," and "Little Drummer Boy," while lesser-known songs offer fresh perspectives on the holidays.
Members include Torie Redpath, Amy Courts, Heather Moen (Garborg), Billy Oehrlein, Laura MacKenzie and Billy McLaughlin.
The ensemble's most recent CD, Wintergrace, is characterized by local music critic Jim Walsh:
"…one of the most elegant and listenable Christmas collections of this or any year — 'WinterGrace' from the Billy McLaughlin-led local collective SimpleGifts"