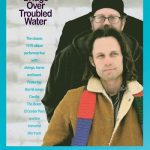 Collective Unconscious, along with an 18-piece orchestra, bring the classic Simon & Garfunkel album Bridge Over Troubled Water to the stage in its entirety.
Crossings has brought Collective Unconscious's popular tribute shows to Zumbrota many times, from the Beatles' Abbey Road to the Beach Boys' Pet Sounds to Crosby, Stills, Nash and Young's Déjà vu show. They've performed Bridge Over Troubled Water, Simon & Garfunkel's last studio recording, at the State Theatre as well. CU plays these albums in their entirety and brings in all the musicians and specific instruments necessary to recreate the authentic sound of each song.
Now, Jeff Engholm, Muggsy Lauer and George Maurer return with a full horn section and string quartet for a repeat of this popular show, which includes songs such as "Cecilia," "The Boxer," and of course, the title track.
In 1970, Bridge Over Troubled Water was released in the wake of the Beatles' Abbey Road and all the incredible classic albums of the late 1960s, one of the most influential and creative periods in rock history. Simon stood up to the challenge and created one of the most hauntingly beautiful yet witty records ever. The fifth and final studio album by Simon & Garfunkel, it reached number one on Billboard Music Charts pop albums list, won a Grammy® Award for Album of the Year while its title track won the Grammy Award for Record of the Year and Song of the Year in 1971. It remains, to this day, one of the best selling records Columbia ever released.